1/1
Awakened inside a dark, humid, and abandoned laboratory, MO discovers that it not only has to face an extremely hostile and sinister environment, but it also must face humans who, having been taken over by alien parasitic plants, are now stuck in the endless limbo between death and the rebirth system.

In an advanced facility that has been invaded by otherworldly beasts and local inhabitants, the fully-automatic system controlled by the main computer is still operating like a mad man. Even the most ordinary industrial conveyor belt can become a deadly trap that leads you straight to the pits of hell. What's more, there seems to be an eerie presence that's watching all of this from the shadows.

Who caused this disaster? And on this path that leads to answers for every unsolved riddle, what sorts of trials and tribulations lie ahead?
Stick: Utilize the character's special trait to clear all the tricky traps
Skill: Use your enemies to dodge attacks
MO: Astray is a pixelated, side-scrolling, puzzle-solving action game. Featuring the main character MO and its special abilities, the game is loaded with bizarre enemies, threatening traps and ingenious level designs.

Born in a laboratory with sinister leanings, the green jelly-like MO is aware that it must take on a mission of immense importance. Under the guidance of the mysterious mutterings in its ear, MO uses jumping, sticking, and other strange abilities to overcome one obstacle after another. What it's not aware of is that it's headed right towards the shocking truth...
Solve: Carefully operate the switches to outsmart the levels
Jump: Feel the sense of speed as you dash through the air
Change: A control experience that changes according to the level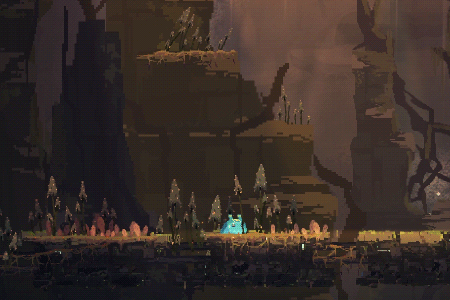 Challenge: Exciting Boss battles
MO: Astray is developed by Archplay and supervised by Rayark Inc. It's the first time Rayark Inc. collaborates with a student group to publish a game.

Archplay was established in 2017 by a team of game-loving students. During the making of their graduation project, they developed "MØ-Macrophages-". After two years in development, with the assistance of Rayark, the game has now been officially titled "MO: Astray". The game is ready to be introduced to players with a brand-new look and design concept.

For the development team, the production process of this game was very much like MO's own journey; although the path ahead is full of unknown challenges, you must hold fast to your convictions and courageously continue forward.